In recent years, the cryptocurrency market has been especially prosperous with the development of a number of cryptocurrency projects. KDA is also an emerging project in the cryptocurrency market.KDA, unlike other cryptocurrencies, is known as the next project that can be compared to BTC as it pertains to simplicity and its cost-effective transaction fee, much better scalability than BTC, and the future trading volume of 990 million tokens. KDA may become a big breakthrough for cryptocurrencies after BITMAIN, the world's largest miner manufacturer, merged with KDA.
HASHFROG, a diversified cryptocurrency investment platform, has reached a strategic cooperation with BITMAIN and ANTPOOL, announcing it will jointly launch KDA cloud mining products to provide low-cost, flexible and effective KDA mining services.On September 13, 2022, the three parties jointly held a digital marketing launch and explained the joint vision for their future collaboration. Representatives from Moorea development team and the Moorea Mining Club community, as well as the Kadena development team, also spoke during the conference. They all expressed their support for the project.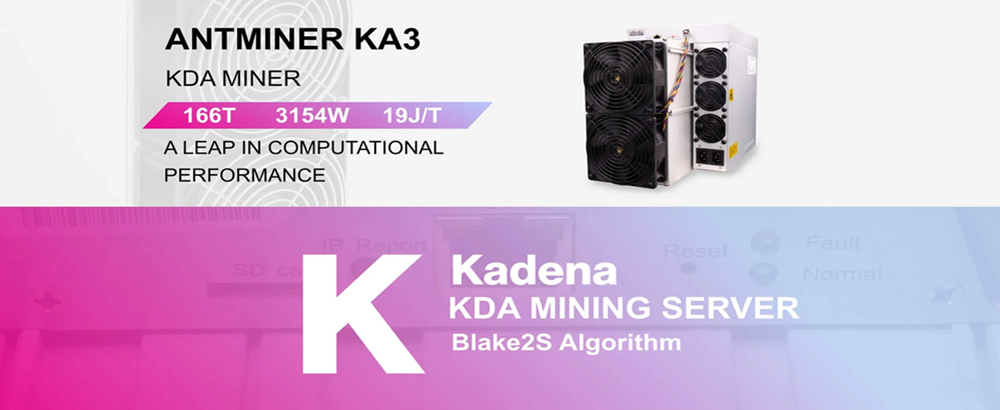 HASHFROG revealed that the ANTMINER KA3 will be introduced and was touted by the organization at the press conference. Has a particular hashrate of 166 T, with an energy consumption ratio of 19.7 J / T. Has made its mining efficiency extraordinary to its era of energy conservation and efficiency.KA3 uses the predestined design of BITMAIN's flagship product, which is the 19 series miners, and the top air-cooled heat dissipation technology, so that miners can get the most out of mining under Blake2s algorithm. Xmei Lin, the marketing manager of BITMAIN, also recently announced at the press event that BITMAIN would give three KA3 miners to Kadena's development team to help them continue navigating the mining world.BITMAIN will continue to contribute to POW projects in the future and actively seek to support long-term development and ecological prosperity of outstanding POW projects such as Kadena.

ANTPOOL, the world's leading mining pool, is located at the center of the mining industry chain and has a crucial role to play in the business by offering pool services for a variety of cryptocurrencies. In this collaboration, ANTPOOL can supply HASHFROG with excellent KDA mining pool and endorsement of security.ANTPOOL is the only mining pool that's dedicated to optimizing the KDA hashrate that maximizes the capabilities of the KDA High hashrate miner so that, in the long term, it operates in a highly reliable fashion that enhances mining income.ANTPOOL is the supplier of the highest-quality service for KDA's attributes thanks to its unparalleled algorithm, ease of use, transparency, and low energy consumption.

HASHFROG, the platform for providing KDA mining products through collaboration with BITMAIN, will divide the hashrate of KA3 miner provided by BITMAIN to the minimum order of 10t. Customers can select the best mining components based on their own needs. 90-day, 120-day, and 180-day options are available for wholesome investment flexibility.The HASHFROG management team announced at the conference that the company would offer $1 million worth of bonus bonuses to users who purchased KDA mine products during launch, and encouraged users to actively engage in cloud mining.HASHFROG, positioned as a diversified crypto service provider, will also launch mining services for a variety of cryptocurrencies in the future, with additional crypto product launches scheduled for the platform around the end of October this year to provide additional investors with diverse asset options.
HASHFROG strives to construct a safe and compliant blockchain structure and produce innovative and diverse digital currency investment products. It is a one-stop platform that offers cloud mining services, comprehensive crypto-financial management, and flexible digital asset investment solutions for global digital currency enthusiasts.This decision to align our strategic cooperation with both BITMAIN and ANTPOOL on our KDA miner marks the commitment of the three parties to collaborate tightly and integrate the resources of miner, mining and pool sites to deepen and enrich environmental cooperation in mining as well as energy industry by increasing upstream and downstream value along the industry, and providing a solid guarantee for long-term investments in cryptocurrencies.
---
Post time: Oct-14-2022