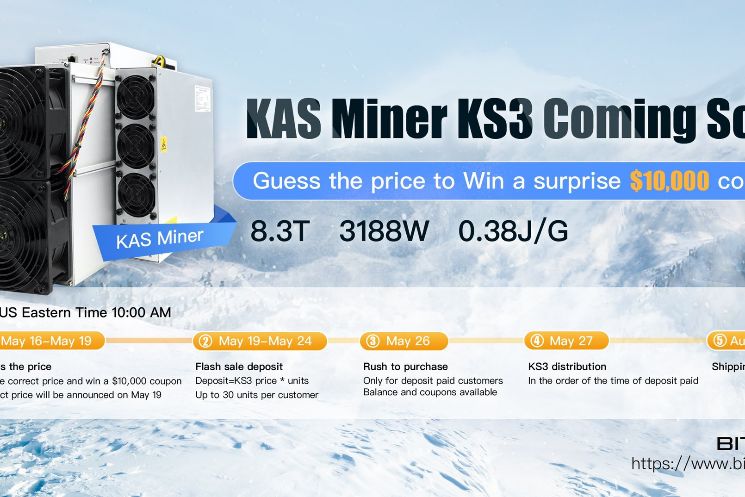 Bitmain has announced the upcoming release of their Antminer KS3 ASIC miner for KAS, and its specs are quite impressive compared to what is currently on the market. The KS3 ASIC miner boasts a hashrate of 8.3 TH/s with a power usage of 3188 Watts, making it highly power efficient at 0.38 J/GHs. In comparison, a single RTX 3070 GPU optimized for mining does around 600 MH/s at 90 Watts of power usage. This means that one KS3 ASIC miner is equivalent to approximately 14,000 Nvidia RTX 3070 GPUs in terms of hashrate while being much more power efficient.
Although there is no official price yet, Bitmain is hosting a competition for users to guess the cost. However, you should expect the price to be in the tens of thousands. Bitmain plans to start shipping these miners in August, which will likely cause a significant spike in network difficulty once they come online.
With the current total network hashrate of Kaspa (KAS) at around 1.16 PH/s, doubling it with the Antminer KS3 ASIC miners would only require around 140 devices, and Bitmain should produce more than that. FPGA mining and GPU mining for KAS will become unprofitable with ASIC miners hitting the network. With ASIC miners being significantly faster and more power-efficient than other mining options, even with increasing prices, it will still be unreasonable to compete with ASIC miners.
While waiting for the release of the new miners, it's not too late to mine KAS or accumulate some KAS coins while the price is low. However, don't wait too long as difficulty will likely increase significantly once the miners hit the network.
---
Post time: May-22-2023