Product Detail
Product Tags
Product Name 

WhatsMiner M66

Hashrate

280Th/s ±5% @25℃

Power efficiency on wall

19.9j/Th  @25℃

Power on wall

5572W ±10% @25℃

Working temperature

5-45℃

Miner Size (L*W*H, with package),mm

267.5mmX147mmX401mm with handle

Gross Weight

Net weight: 16kg Weight with packaging materials: 17kg

Network interface

RJ45 Ethernet 10/100M

Operation humidity(non-condensing),RH

5%~95%

Note

1.Including PSU size
2.Including PSU weight
MicroBT's Brand New WhatsMiner M66: The Pioneer of a New Era in Bitcoin Mining
In the field of Bitcoin mining, MicroBT has always won widespread recognition from global users with its outstanding technology and high-quality products. In October 2023, this globally renowned Bitcoin mining equipment manufacturer once again led industry trends and launched its brand new flagship product—WhatsMiner M66. This new mining device, with its powerful performance, efficient cooling system, and excellent stability, has once again proven MicroBT's leading position in the field of mining equipment.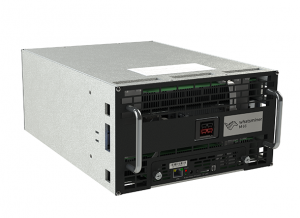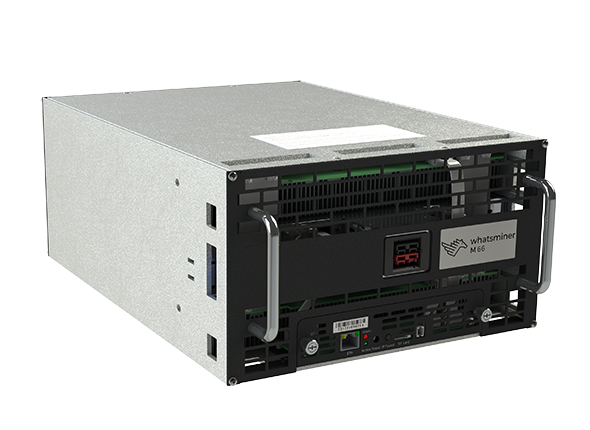 The design of WhatsMiner M66 focuses on the perfect combination of practicality and efficiency. Despite its size of 267 x 147 x 401mm and a weight of 13000g, its noise level is only 45db, far lower than similar products. This is thanks to its unique water cooling system, which can effectively dissipate heat while keeping the device running quietly, ensuring stable performance even under long-term operation. This human-centered design concept makes WhatsMiner M66 not only excel in performance but also reach new heights in user experience.
The power of the WhatsMiner M66 is as high as 5572W, meaning it can provide a more powerful hash rate and mine Bitcoin more efficiently. This powerful performance makes the WhatsMiner M66 a dark horse in the Bitcoin mining market. Whether it's large mining farms or small home miners, they can all reap unimaginable benefits from this device.
Furthermore, the working environment requirements of the WhatsMiner M66 are extremely flexible. Its operating temperature range is 5 - 45 °C, and humidity range is 5 - 95%, maintaining good working conditions whether in the cold north or the humid south. This excellent adaptability ensures that WhatsMiner M66 can maintain optimal work efficiency in any environment.
In terms of connectivity, the WhatsMiner M66 uses an Ethernet interface, making device connection and setup simpler. Users can easily connect it to the network and start their mining journey. This easy-to-use design makes WhatsMiner M66 suitable not only for experienced miners but also for beginners just entering this field.
All in all, MicroBT's WhatsMiner M66 is a true industry leader. With its powerful performance, efficient cooling system, excellent stability, and simple operation, it sets a new standard for Bitcoin mining devices. Whether you are an experienced miner or a beginner in this field, WhatsMiner M66 will be your ideal choice. As the value of Bitcoin and other cryptocurrencies continues to rise, choosing a high-performance mining device is undoubtedly a wise investment choice. And WhatsMiner M66 is just such a device
We sell all types of Mining Machines, including BTC, BCH,ETH, LTC etc..
-First of all, please send an inquiry(Product Model/Qty/Address) to us and also provide your contact information (Such as Email, Whatsapp, Skype, Trademanager, Wechat).
-Secondly, we promise that real-time pricing information will be sent to you within 30minutes.
-Finally, please confirm the real-time price with us before full payment according to market price development.
-T/T bank transfer, MoneyGram, Credit Card, Western Union
-Crypto coin such as BTC BCH LTC or ETH
-Cash(USD and RMB both accept)
-Alibaba assurance order, Alibaba guarantees the security of buyer's fund.
We would like to deal with transaction in this way for the first cooperation.
-Each machine will be tested by professional equipment and software before delivery. The test data and video will be sent to buyers.
-All brand new machines with original factory warranty,normally 180 days;
-Second-hand machines without any warranty for hardware issues, we can provide technical online support for non-hardware issues at Beijing time 9:00am-6:30pm. For hardware issues, buyers have to afford the cost of labor, materials and delivery fee.
-Each machine will be tested by professional equipment and software before delivery. The test data and video will be sent to buyers.
-Dust and Stains Cleaning, Waterproof and Drop-proof Packaging
-Normally 8-15 days
-UPS/DHL/FEDEX/TNT/EMS, By air(to appointed airport), By specialized line to your address directly (door to door with custom clearance)
-We provide DDP (Door to Door) service to USA, Germany, Belgium, Canada, Netherlands, Denmark, Czech Republic, Poland, Austria, Ireland, Portugal, Sweden, Spain, Russia, Kazakhstan, Ukraine, Malaysia, Thailand and some other countries.
-We handle customs and door-to-door operations in the buyer's country, so the buyer does not need to pay any import duties or customs fees in the DDP service.
-Exempt the above DDP countries, we help you reduce your taxes by shipping with a lower invoice.